What to watch on offense
The Ol Ball Coach has presided over his own offense for decades. For years Spurrier's "fun and gun" offense terrorized opposing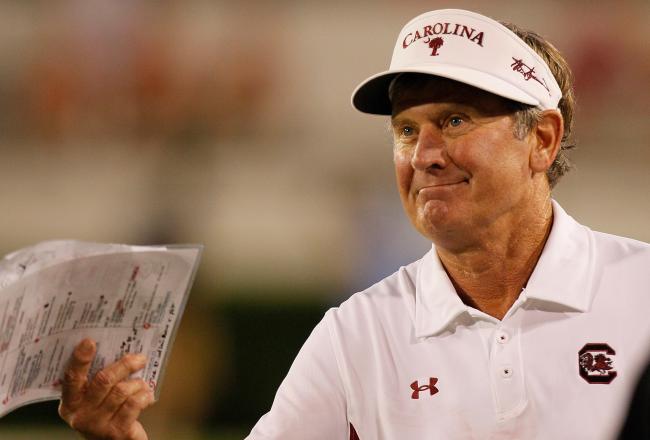 defenses. During the early stages of his tenure at South Carolina Spurrier employed the same offensive model. The arrival of superstar RB Marcus Lattimore caused Spurrier to change his offensive approach. South Carolina has relied more heavily on the run and mixed in an array of under center plays in recent years in an attempt to take advantage of Lattimore's talent. The fun and gun spread remains a large portion of the South Carolina offense however.
Rotating QBs is a hallmark of Steve Spurrier coached teams. This season is no exception; although injuries have played a large factor. Junior Connor Shaw began the year as the starter but a number of injuries have allowed sophomore Dylan Thompson to see significant action this season. The more mobile and experienced of the two, Shaw is expected to start the Gator Bowl with both QBs likely see time. Unlike the last bowl game where Michigan faced one of the tallest sets of WRs in the country, South Carolina employs one of the shortest. South Carolina's top three pass catchers, Bruce Ellington, Ace Sanders, and Damiere Byrd all check in at 5'9" or below. What South Carolina's WRs lack in size, they make up for in speed and quickness. The diminutive Byrd averages 25 yds per receptions this season, though he has just 12 receptions on the year.
For the last three years South Carolina has gone as far as Marcus Lattimore's legs could carry them. South Carolina has enjoyed a wealth of talent over the years but none better than Lattimore. Lattimore suffered another nasty knee injury in the latter half of the season which led to an increased workload for senior Kenny Miles and freshman Mike Davis. From a statistical standpoint, South Carolina's rushing production has decreased little since Lattimore went down to injury. The net effect and fear factor for opposing defense has decreased in potency since the injury.
Best Offensive Player
Ace Sanders- With Lattimore MIA the next focal point of the offense becomes Sanders who doubles as big play receiver and returnman. Sanders leads the Gamecocks in TDs receptions and his 14.5yd punt return avg leads the SEC.
Head Coach- Steve Spurrier-8th Year
Off Coor- Steve Spurrier
Def Coor- Lorenzo Ward-1st Year
2011 Record
11-2
Returning Starters
Offense-5
Defense-5
Key Losses
WR Alshon Jeffery
OT Rokevious Watkins
OG Terrence Campbell
LB Antonio Allen
DE Melvin Ingram
CB Stephon Gilmore
Key Returners
QB Connor Shaw
WR Ace Sanders
RB Kenny Miles
DE Jadeveon Clowney
DE Devin Taylor
LB Shaq Wilson
LB/S DeVonte Holloman
FS DJ Swearinger
What to watch on defense
Thanks to Spurrier, South Carolina's offense receives much of the attention. Over the past two seasons the South Carolina defense has played as large a role in the Gamecocks success as the offense. Former DC Ellis Johnson produced a top 5 defense a year ago and there has been little drop off this season as the Gamecocks rank 12th in total defense. South Carolina has historically favored speed and athleticism over size and much like the Wolverines bowl opponent from a year ago, the Gamecocks employ a variety of defensive looks from the 4-2-5 to the more tradition 4-3 and occasionally the 3-4.
The headliner on defense is the former #1 HS player in the country DE Jadeveon Clowney. Clowney has been a terror off the edge this season accounting for 13.5 sacks and 21 TFLs. Clowney has litany of partners in crime on the defensive line including DEs Devin Taylor, Chaz Sutton, and DT Kelcy Quarles to name a few.
South Carolina only uses two "true" LBs positions on defense though there is a rotation of players. Senior Shaq Wilson leads team in tackles from the MLB spot and is a true sideline to sideline player. The real wildcard defensively for the Gamecocks is the "spur" DeVonte Holloman. Holloman lines up everywhere from safety to LB and occasionally even on the line of scrimmage. Those that follow recruiting may remember Holloman as he was a Michigan recruit that visited Ann Arbor. An agent of chaos, Holloman leads the Gamecocks in interceptions, ranks 3rd on the team in TFL, and 4th in tackles.
South Carolina was 2nd in the country in pass defense a year ago and lost three starters including a 1st round draft choice in Stephon Gilmore. Even with the losses the Gamecocks still put together a top 20 pass defense this season led by FS DJ Swearinger. Swearinger is a tackling machine, finishing 2nd in tackles last year and is on pace to do the same this year.
Best Defensive Player
Jadeveon Clowney- Easy choice. Clowney would likely be a top 5 pick if he were e
ligible for this April's NFL draft. At 6'6 256lbs, Clowney is simply bigger, faster, and more athletic than most of the guys who lined up across from him. Clowney is as elite a player as they come and he is just a sophomore.
Michigan Rush Def vs. SC Rush Off
South Carolina has maintained a stable running game after the loss of Lattimore but they are clearly not at their best without #21. The Gamecocks rank 10th in the SEC in rushing averaging 142yds per game on the ground.
Michigan's run defense was gashed down the stretch, giving up an average of 174yds in the final five games of the season. Michigan's most talented players are in front seven but that clearly doesn't guarantee great results.
Advantage- Push
Michigan Pass Def vs. SC Pass Off
Michigan is still among the nation's leaders in pass defense from a statistical standpoint. That ranking is largely a mirage however as the Wolverines have struggle to cover receivers for most of the year. The loss of senior JT Floyd adds to the Wolverines woes.
So long as Steve Spurrier is in charge the Gamecocks will be a threat in the passing game. South Carolina is 7th in the SEC in passing at 229yds per game, though they upped their avg to 268yds after Lattimore went down.
Advantage- South Carolina
Michigan Rush Off vs. SC Rush Def
A healthy Denard Robinson presents an amazing challenge for opposing defense no matter where he lines up. Denard battled injuries through the end of the season and is only now getting close to 100%. The loss of Fitz Toussaint added another blow to a rushing attack that has struggled for most of the year.
South Carolina checks in at 16th in the nation in rush defense though clearly they have a better pass rushing unit. The Gamecocks give up an average of 119yds on the season though they were gashed in their last two ballgames.
Advantage-South Carolina
Michigan Pass Off vs. SC Pass Def
The emergence of Devin Gardner at QB has completely changed the outlook for the Michigan passing game. Gardner has shown flashes of brilliance and the Wolverine passing game has responded, averaging 251yds after Gardner took over.
South Carolina's stout pass defense is a combination of having a great pass rush and excellent safety play. There have been weaknesses on the corner and the Gamecocks have been set on fire a number of times this season through the air. If South Carolina's front 4 can be kept at bay, there have been opportunities for opposing offenses. Keeping the Gamecocks away from the passer is easier said than done however.
Advantage- Michigan

Use Facebook to Comment on this Post