Seems like years ago that we were watching Michigan gut out a win in an overtime thriller against Virginia Tech in the Sugar Bowl. That's what football off season is. An eternity. 
But the much anticipated showdown is finally upon us. Defending National Champs, versus a Michigan team whose rebuilding effort moved a year ahead of schedule last year, posting an improbable 11-2 mark after the 3 most futile years in the 132 years of Michigan Football. 
Many expect Michigan to take a step back this year, record wise, and its hard to argue. With this game in Dallas, and road games at ND, Nebraska and Ohio, along with a home game with MSU, its certainly not beyond the realm of possibility to see an 8-4, 9-3 record. With depth concerns on the offensive line, health is paramount if anything close to last years record is to be achieved. 
Alabama enters this game losing large parts of its National Championship team from a year ago. But at Alabama, they reload (or make room, as it were). 
When Bama has the ball:
One area that remains an absolute beast from their National Championship team is their offensive line. Many claim its the best they've seen, and while that may be coach-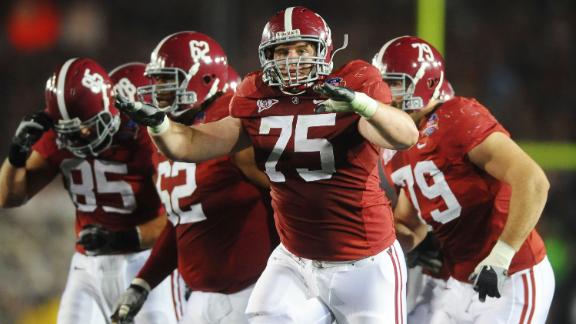 speak, you can't doubt they are incredibly talented. Barrett Jones slides down from guard to center, with the departure of William Vlachos, and he's a beast. Whoever plays the nose is going to have their hands full. 
Expect Bama to try to pound the ball early and often. UM's defensive line, while inexperienced for the most part, has talent. Michigan's defensive line will have a tough time stopping the run. What they need to do is not get blown off the ball. If they can maintain gap integrity, and allow the talented LB corp to fill the gaps, Michigan can slow it down. 
QB AJ McCarron is an efficient passer, completing nearly 67% of his passes a year ago, and only being picked off 5 times. He doesn't make many mistakes, but if Michigan can keep the Tide's running game from leaving tread marks on their backs, and force some 3rd and long situations, anything is possible. 
When Michigan has the ball:
Moving back to the days of Bo, I truly expect Michigan to attempt a similar game plan as Alabama. Not that they're scared of the Bama offensive line, but I don't think they want to get pounded for 40 minutes, and will attempt ball control. Half of the Tide defense from last year is now playing on Sundays, and while talented, their secondary is inexperienced. 
After today's press conference, just reading between the lines, I have changed course in my opinion from the weekend, and think Fitz Toussaint will spend this game on the sidelines. That will leave it up to Soph Thomas Rawls, Sr Vincent Smith and RS-Fr Justice Hayes to pick up the slack. There is a ton of untapped potential in Rawls, and he's a back that Brady Hoke loves. Big, fast and bruising. 
Also expect to see a ton of Devin Gardner at WR. In fact I'd be surprised if he didn't take 25-30 snaps there. I think he's finally starting to realize he can be a NFL type talent at that position, and while maintaining his job as #2 QB, why not get on the field. Many last year said he was the 2nd most gifted athlete on the team after Denard, utilizing that is important. 
Prediction:
While my heart (and maybe even my brain on some level) says Michigan will have a great chance in this game, I truly think Michigan is a year or two away from having all the pieces in place. Unfortunately the Wolverines are lacking experience on the defensive line, and Bama's strength happens to be their offensive line. I do think this game will remain closer than most think, Vegas lines favor Crimson Tide from 12 to 14, but at the end of the day the D-line will get worn down in the second half. 

Use Facebook to Comment on this Post