The next rung in the undefeated ladder up upon us. While most sane people expect a slip up(or two or more) between now and the Saturday after Thanksgiving, we're all going to enjoy each win, and hope the Big 10 season implosion of the past two years doesn't continue. One thing is more than likely, there a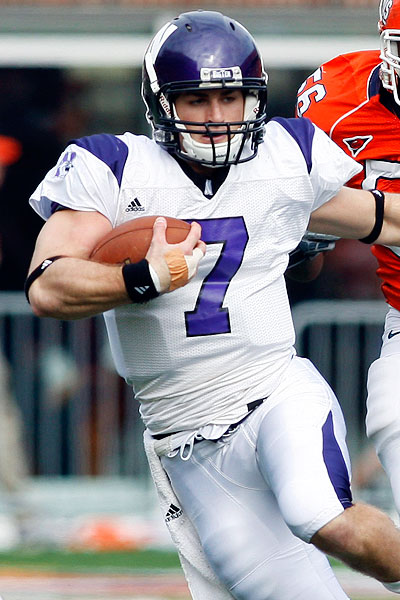 re teams who will expose our defensive weaknesses, but you have to like Michigan's chances to adjust and at very least get the most out of the players at hand. As the season has played out, the positive is every team remaining on the schedule has holes. Before the season you could make a strong case that Michigan would easily lose 2-3 games, if not 4-5. Today, you can't say that Michigan won't have a chance with any game left.
The Wolverines leave the friendly confines of the Big House to play on the road for the first time all season. Northwestern will provide some serious challenges, especially if we're to take Coach Pat Fitzgerald at his word that Sr QB Dan Persa is 100% after being pulled in a close game last week after fear his achilles injury from last season had been aggravated in his first game back. I tend to be skeptical, and think its coach speak, but time will tell. He is such a playmaker that I don't think Northwestern stands much of a chance if he doesn't play. If he does play, expect them to try quick 3 step drops and roll outs to try and keep the heat off Persa. In spite of playing the 2nd most experienced Offensive line in the country, Northwestern surrendered 4 sacks last week against Illinois. Key in my eyes is to not give big cushions to the wide outs, and bring pressure from the edges. With NU losing their starting RB for the season last week, don't expect them to gash Michigan on the ground.
When Michigan has the ball, expect to see a passing game similar to last weeks Minnesota game, where Borges gets Denard in rhythm early with short, easy passes. Northwestern's front seven is above average, but not great. However its secondary is quite suspect, giving up close to 400 yards in their loss last week through the air. While it needs to be said every week, Michigan needs play turnover free ball, and if they do, I don't see Northwestern winning, although it may end up being a one possession game if Persa indeed plays. Michigan wins, 37-28, bring on little brother.

Use Facebook to Comment on this Post