If recruiting truly is the life blood of any program as many college coaches like to say, then Sparty will have a date with the ICU very soon. Coaching clichés, comm
only referred to as "coach speak", are often given out for the purpose of exciting fans or giving the media good sound bites. Most coach speak is not informative and leads to eye rolls and audible sighs. After all, what coaching staff doesn't want "maximum effort" from their players, or believe that "the team that controls the line of scrimmage and doesn't turn the ball over wins the game?" Recruiting as the lifeblood of a program isn't just coach speak however.
Recruiting great talent is critical in building a program that will compete and win at the highest level. John Calipari likes to say that there are 3 important factors in building a great team. #1 is recruiting, #2 is recruiting, and #3 is recruiting. Techniques, schemes, player development, and strength & conditioning are all important factors, but talent trumps them all. Teams with extraordinary talent lacking those qualities have won championships in the past, see 2001 Miami under Larry Coker. On the other side, it is very difficult to win without a minimum level of talent even if you have all the other qualities. If you rely on factors other than talent, eventually it will catch up to you. Usually it catches up when facing a team that is as well coached and conditioned as you are, but has significantly more talent. The 2010 Capital One Bowl between Michigan State and Alabama is a good example. Michigan State fans have reason to be terrified that such incidents will increase in frequency, both in B1G play and nationally. Fear is very much warranted because of what is transpiring in recruiting.
For those who may be Spartan fans there is no easy way for me to say this so I'll be direct. The Michigan State football program under Mark Dantonio is currently being treated like 2nd class citizens on
the recruiting trail. Now Michigan has consistently recruited better than the Spartans over the last 40-50 years; Spartan fans will quickly point out the fact that the stretch includes the last 4 years of Spartan dominance. But what is happening right now is something completely different than what's occurred in the past. Spartan football fans have every reason to be terrified how the current recruiting situation is unfolding.
In case you might be wondering, yes these facts matter, and yes it will have a dramatic impact on the Michigan-Michigan State series in the future. Over the past year, spanning 2 different recruiting classes, Brady Hoke and the Michigan coaching staff have attacked the Midwest recruiting scene and dominated the Spartans. Michigan State fans, players, and coaches will retort that Michigan has always recruited better than the Spartans, something that has not helped the Wolverines over the past 4 years. While it is true that Michigan State has gained control of the series over the last 4 years, there are several important things to take into account. First, Michigan State's rise to the upper echelon of the B1G over the last 4 years coincided with Michigan's fall from the top. In addition, despite recruiting better than Spartans over the last 4 years, Michigan's overall talent level fell far below the level it stood in the preceding years. Finally, the state of affairs at Michigan both on and off the field has dramatically changed in the past year. Michigan State's ownership of the series over the last 4 years is not sustainable under the current conditions.
Brady Hoke and his staff aren't just landing high school players who favor Michigan or have no loyalties one way or the other. Michigan
has strolled into Mark Dantonio's house, slapped his dog, and then taken the food right off of his plate. To date Dantonio has done nothing about it, except sulk at HS coaching clinics like a paranoid old man. (Side note: From the looks of things, Dantonio would have been better served by taking notes during Coach Hecklinski presentation than interrupting him). In the 2012 class, Michigan landed two highly rated and recruited players out of a school that has traditionally been very kind to Michigan State, Farmington Hills Harrison. One of those players, DE Mario Ojemudia, was an admitted Michigan State fan. 2013 offensive linemen Kyle Bosch, a top 100 player nationally, visited and publicly admitted that he loved his time at Michigan State just one day before committing to Michigan. Another highly rated and recruited offensive lineman, Patrick Kugler, grew up a Michigan State fan and was set to visit Michigan State yesterday for their junior day. Rumor had it that he planned to commit to the Spartans while on this visit. Kugler visited Michigan on Friday, and committed to the Wolverines Saturday morning. Make no mistake these are players that Dantonio indentified, evaluated, targeted, and heavily recruited. Kugler marked the 21st player to commit to Michigan under Brady Hoke while holding an offer from Michigan State.
If the Spartans continue to get dominated in recruiting the impact will inevitably show up on the field. It is important to understand that while the Spartans beat Brady's Hoke team this fall, Hoke's recruits have yet to see the field. The recruiting success that Hoke and his staff have enjoyed in the 2012 and 2013 classes won't be truly felt until 2014 or 2015, when the players from those classes start to receive significant playing time. Despite rhetoric to the contrary, recruiting rankings do matter, especially at the macro level. A 2011 Study by Yahoo Sports showed that of the teams that averaged a top 10 Rivals recruiting class from 2002-2010, 7 finished in the top 10 in winning percentage. All 10 that averaged a top 10 class finished in the top 15 in winning percentage, including Michigan. In addition, of the teams that averaged a top 5 recruiting class, all 5 finished in the top 10 in winning percentage and 4 of the 5 made multiple national championship appearances. Let's be clear, recruiting rankings aren't the ONLY thing that matter. Development, system, coach, and style of play all play a role in whether a HS player succeeds or not. The overall level of talent though, as demonstrated by class rankings, does matter. It isn't by accident that the teams at the top of the recruiting rankings usually finish at the top of the actual rankings.
Brady Hoke's first full recruiting class earned him the 7th ranked class in the country according to Rivals. The 2013 class is already off to a better start than the year before and will likely finish in the top 5. That alone is a troubling sign for Spartan fans. Michigan's best recruiting finish from 2006-2011 was 8th, with a 6 year average of 14th. Brady Hoke and his staff's 1st two classes are on pace to best any class that Michigan has put together since 2005.
The most troubling sign for Spartans fans concerns their standing relative to their level of success. Despite Michigan State's on field success that includes back to back 10 win seasons and back to back Jan 1st Bowl games, the Spartan's have failed to gain traction from a recruiting standpoint. Not only have the Spartans failed to turn their on field success into significantly better recruiting classes, they are now losing players who they have every advantage with. Michigan has recruited better than the Spartans for decades but the Spartans were still able to land the kids who favored Michigan State from the beginning. That is no longer the case. Kids who favor Michigan State are committing to Michigan as well. As a Spartan fan on a Michigan State message board recently lamented:
"Even when Lloyd was here and we had JLS (John L.Smith), we at least got these kids to give us a look. What Hoke is doing to Dantonio on the recruiting trail is absolute murder."
What can Sparty do about it? My advice would be to dispatch Mark Dantonio to Ann Arbor with the Paul Bunyan trophy in hand and have him beg for mercy. A public apology to Coach Hecklinski wouldn't be a bad idea either. Matt Dorsey, a recruiting analyst for Spartan Mag and Rivals suggests that Michigan State has the ability to recruit nationally to fill its class:
"With Michigan State coming off an 11-2 season and expected to be one of the top teams in the Big Ten for 2011, the coaching staff is looking to expand its recruiting base. During his first few years at MSU, coach Mark Dantonio focused on recruiting Ohio and Michigan. He knew it was important to re-establish connections at local high schools and build rapport with coaches, players and school administrators. Last year, the Spartans went all over the country to land a strong recruiting class. On National Signing Day, MSU brought in high-level prospects from 11 states. The trend of a more national-based class should continue in 2012."
This "national-based" approach yielded the Spartans the 40th ranked class in the country according to Rivals for 2012. Only 3 of the Spartans s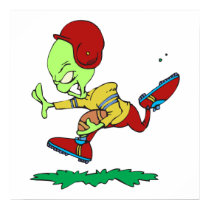 ignees were from outside the Midwest. So far the Spartan's have netted 3 commits in the 2013 class, with two hailing from the state of Michigan. With the lack of national success, the next step for the Spartans may be trying their hand at international recruiting. I've heard that there are some great linemen in Indochina and Uzbekistan. Maybe the Spartan's will be the first to recruit on an intergalactic scale. Who knows what kind of football talent may exist outside of the Milky Way. Maybe we`ll see a Martian lining up at WR for the Spartans in the near future?
Something has to be done though because Michigan is poised to dominate the series again. While I don't expect to see the Spartans to return to the days of losing seasons under Mark Dantonio, their days of dominating Michigan appear to be coming to a close. The chances of them staying in the upper tier of the B1G continues to decrease as well if Michigan and Ohio continue to recruit at such a high level. Eventually inferior talent catches up with you. It may not be this year for Michigan State. The Spartan's return 9 starters on defense, 4 on the offensive line, and 2 good backs while Michigan is still in the process of stocking the shelves. Sooner rather than later though, Michigan's talent level will catch up with experience. When that happens there will be nowhere for Michigan State to hide.
Run while you still have legs Sparty.
Joseph Boyd can be contacted on Twitter @JBDet20 or by leaving a comment below. Go Blue!

Use Facebook to Comment on this Post