21 Wolverines will run under the M Club Supports you banner for the last time this Saturday. Emotions will be high. The vast amount of underclassmen want to send them out with a win in their last game in the Big House. An embattled coaching staff wants to show true
progress this year by beating a Top 10 team.
For the immense amount of youth on this team, particularly the defense, 7-3 is about where I figured they would be at this stage of the season before fall camp started. Attrition and injuries on an already depth depleted defense after the start of camp have pushed more and more true and redshirt freshman into the fray, ready or not. There have been more than adequate learning opportunities for them, and they continue to progress. Sure Purdue and lousy weather last week lead the way in Michigan only giving up 9 offensive points. That said, the offense turned the ball over 5 times ( 6 if you count the 4th down failure on the wrong side of the field) and did what was needed to win in a game that probably would have ended in a loss in 2009.
Up next is Wisconsin, a team who put up 83 points last week against Indiana ( yet gained less than 500 yards). Poor Bucky the Badger ended up doing 535 pushups.
Not much about Wisconsin has changed over the past few decades. When they have a junior and senior laden team with an experienced QB, they're good. This year, they're darn good. A massive offensive line weighing in over 3/4 of a ton looks to push an undersized Michigan Defensive front and use play action passing to expose an inexperienced secondary.
On defense, Wisconsin is tough. JJ Watts will likely be an all Big 10 Defensive end. Michigan fans should hope he can be controlled more along the lines of how they kept Iowa's Adrian Clayborne in check, as opposed to last weeks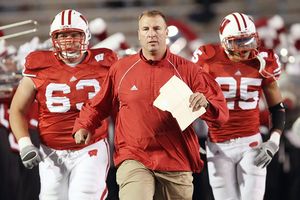 matchup with Superman himself, Ryan Kerrigan.
I think if this game was played 10 times, Michigan would probably win about 3 times. What concerns me the  greatest is the fact that Wisconsin just simply takes care of the ball. And in Michigan's 6 Big 10 games, they have turned the ball over 23 times.
The one thing I'm hoping Denard learns is it doesn't always have to be a home run. Hitting wide open 15 and 20 yard gains are much better chances than chucking a 50 yard pass, with a much higher chance of failure. Bo used to always say when you pass, 3 things can happen and 2 of them are bad. Well with this trend of turnovers, an incompletion isn't a bad thing.
I think this game on Saturday will come down to turnovers and time of possession. I just can't see Michigan winning both of those battles. The game should be close in the first half, but I think Wisconsin's beef will eventually wear down Michigan's defense in the second half. The biggest hope for Michigan is to jump out to an early lead and make Wisconsin press. But I think tomorrow is probably a sad day for the home team
Wisconsin 44 Michigan 31

Use Facebook to Comment on this Post