(As of 6/1/11)
With 13 commitments already in the 2012 class things are starting to take shape in terms of the roster. Only 5-10 spots remain this recruiting season, meaning the Michigan staff must be picky with commitments they accept as well as post-season offers they send out. If one looks ahead to the 2014 season some obvious holes in the roster must be addressed. We'll take a look position by position and find out
what positions Michigan must recruit hard over the next two seasons and which players are "must gets" for Big Blue.
Offensively Michigan only has four commitments up to this point. Two great tight end prospects in AJ Williams and Devin Funchess team up with offensive linemen Ben Braden and Caleb Stacy. The Wolverines picked up Jack Miller, Chris Bryant and Tony Posada last season and they are all likely to redshirt as freshmen. The year prior, only Christian Pace enrolled, however he has been struggling with injuries. Bryant and Posada are versatile in terms of what positions they can play; however I look for them to lineup at the guard positions for the Wolverines along with 2012 commit Caleb Stacy. Jack Miller was recruited as a center and will battle with Christian Pace to anchor the line. Ben Braden is the only committed or signed tackle who is expected to be on the roster in 2014. However Michigan is in the lead for at least two tackle prospects in Jordan Diamond and Erik Magnuson. These two recruits are key members of the 2012 class and it is very important to sign both prospects. One of these two prospects would be the replacement to potential four year starter left tackle Taylor Lewan. Look for Michigan to take 3-4 additional offensive linemen in the 2013 class. Top prospects with Michigan interest are David Dawson, Steve Elmer and Cameron Dillard.
At quarterback it is a must that Devin Gardner gets his medical redshirt. If he does, Gardner will have control of the Michigan offense for a second consecutive season. Howeve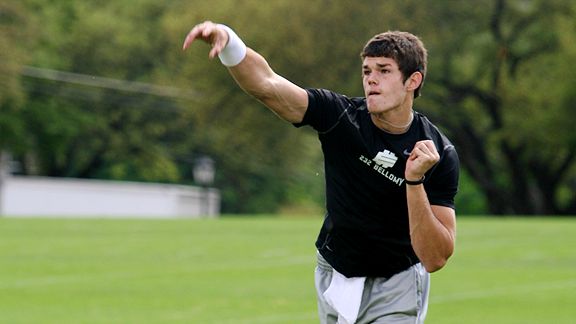 r behind Gardner is Russell Bellomy and 2013 commit Shane Morris. A QB in the 2012 class would be nice for depth reasons however it is not a situation where we must sign an elite prospect, especially with Shane Morris already committed. Tyler O'Connor would be a great prospect to sign at the QB position, if not, look for Michigan to target another 2013 QB. (2013 Recruiting Board)
Wide Receiver is a position of great depth, right now. However, in 2014, the only players who would potentially be on the roster are Jerald Robinson, Drew Dileo and Ricardo Miller. Miller may have burned his redshirt in the 2010 season however he may be granted a 5th year. Robinson is someone who can stretch the field while Miller is a versatile player at WR/TE/H-Back. The growth of Miller will depend where he lines up in the upcoming seasons. Michigan faithful hope that Aaron Burbridge crosses the bridge with his school work and that he tags along with teammates Mario Ojemudia and Devin Funchess. With the lack of depth in the upcoming years at wide receiver Burbridge is a very important recruit. With that said, Michigan must take a second wide receiver in 2012. The most possible at this point is Dwayne Stanford. Stanford was thought to be Ohio State bound but with the recent news that is up in the air. It is now up to Michigan to take advantage of the situation and pull the 6'4" 195 pound recruit to Ann Arbor. In the 2013 class, Michigan has a few targets but no one that looks to be a good bet. However with the news in Columbus Derrick Burgess and De'Niro Laster may not be the Buckeye leans most thought them to be.
Michigan looks to have good depth at the tight end position. 2011 signees Chris Barnett and Keith Heitzman will
be headed into their senior or redshirt junior seasons while 2012 commits Devin Funchess and AJ Williams will be headed into their prime as well. Funchess will add some size and gives the Wolverines an athletic tight end while Williams could grow into an offensive tackle. Ron Thompson is another player who has academic work to do and if he gets his grades where they need to be it is expected he'll be a Wolverine too. 2013 prospect Adam Breneman is a stud and one Michigan would like to get down the road.
Last, but certainly not least, is the running back position. Michigan will have two true freshmen this year in Justice Hayes and Thomas Rawls. Outside of that Michigan does not have any other running backs coming in or currently committed. The running back Michigan has the best shot with at this time is actually committed elsewhere. Bri'onte Dunn, an Ohio State commit, already visited Ann Arbor once. With the developments at Ohio State and a possible Bowl ban look for Dunn to look elsewhere. Dunn would be the perfect back for this class as he is a bruiser with good size and is considered to be a perfect fit for this offense. Michigan is also hoping to get a visit from Keith Marshall but until that happens he won't be considered. Michigan needs a FB as well however a position change could fill this spot. Meanwhile Michigan has made a push on a few 2013 kids including big back Wyatt Shallman and Ty Isaac.
2012 Offensive Uncommitted Prospects in Order by Importance
1. Aaron Burbridge/Dewayne Stanford
2. Jordan Diamond/Erik Magnuson
4. Tyler O'Connor
5. Ron Thompson

Use Facebook to Comment on this Post