Bloomberg reports that Michigan will be crashing the Northeast private party that has been Division 1 Lacrosse for the better part of the sports hi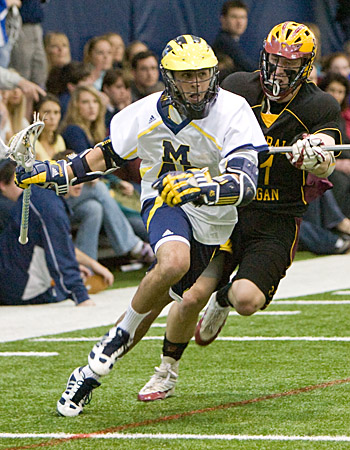 story.
Denard Robinson clocked in on the third team of Phil Steele's All-Big Ten Teams. Not remotely offended in the slightest bit due to Steele being a lone member of the media that predicted success for last year's squad.
A great article on BTPowerhouse highlighting the essential differences between Beilein's squads at West Virginia and last year's Wolverines.
Tennessee Vols blog Rocky Top Talk has an entertaining bracket on their program's biggest villains. In the Final Four, none other than Charles Woodson, lol.
Desmond Howard tweeted for ideas before his speech this at the Black Coaches and Administration convention in Florida this past week.  I highly doubt that his speech wasn't already written and being looked over by his publicist for errors.  Nonetheless, Desmond made a statement using Denard Robinson as an example that no player is bigger than his program that he plays for.  To which I agree and I don't believe he crossed any lines.  The only action against etiquette was tweeting an article supporting himself afterwards.  Then again, to make this entire paragraph moot I can guarantee you that 90% of his tweets are done by his publicist.
In an ESPN Insider article, Bruce Feldman listed the top possibilities to replace Tre$$el as: 1) Urban Meyer 2) Bo Pelini 3) Gary Patterson 4) Jon Gruden 5) Mark Dantonio 6) Mark Stoops 7) Gary Pinkel
The Free Press reports that Darius Morris is confident after working out with the Indiana Pacers.
Twitter Update: We've added Michigan Football Players Terrence Talbott (@T_Talbott) & Jeremy Gallon (@Jgal_10) to our Athletes List to bring the total to 93. To Follow our list of Michigan Athletes: List