What to watch on offense
Like many defensive minded coaches Bo Pelini puts complete trust in his OC to manage most, if not all aspects of the offense. Pelini has allowed veteran OC Tim Beck to run the Nebraska offense as he sees fit. Beck has traditionally employed a pro-style offense, but with the ascension of Taylor Martinez to t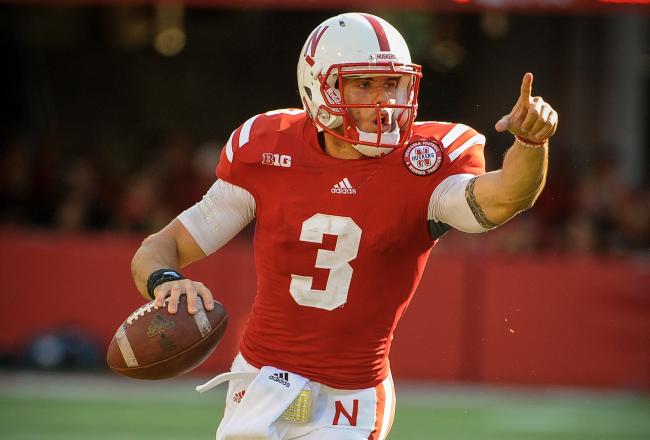 he starting QB role, Beck has been forced to adjust. Elements of Beck's pro-style offense still exist within Nebraska's offensive attack but the spread option makes up a large portion of what Nebraska likes to do offensively. Nebraska runs a ton option plays, many from spread looks but also from under center and in the pistol.
Martinez is not a new commodity. Most who follow college football are aware of him and his skill-set. For much of the last two years Martinez has frustrated Nebraska's fan base and coaching staff in the passing game. Poor footwork, mechanics, and decision making all led to a QB who was more a liability as a passer than an asset. Martinez put in a lot of work on his passing abilities in the offseason and that work has paid dividends this season. Martinez has the highest completion percentage of his career and a gaudy 14-4 TD to INT ratio. Kenny Bell leads a Nebraska WR core that has been largely unheralded this season. A former track star, Bell has the ability to get vertical and make explosive plays in the passing game.
Nebraska was expected to have one of the most potent rushing attacks in the country. Injuries to Rex Burkhead have impacted the Nebraska offense, but not close to the level that many expected when he went down. Ameer Abdullah, who posted just 172 yds on the ground a year ago, has filled in admirably for Burkhead but he doesn't bring the same level of physicality, Abdullah is has more pop and wiggle. Burkhead is expected to miss Saturday's game meaning the full load will fall to Abdullah.
Nebraska lost 3 starters off of the offensive line including 2nd team All-Big 10 Center Mike Caputo.
Best Offensive Player
QB Taylor Martinez- Burkhead would be the choice if he was healthy but he has be ruled out of Saturday's game. Martinez is an electric running in the open field and a playmaker on the option. Improved passing ability has turned Martinez into a true duel threat this season.
Head Coach– Bo Pelini
Off Coor– Tim Beck-5th Year
Def Coor– John Papuchis
2011 Record
9-4
Returning Starters
Offense-7
Defense-7
Key Losses
OC Mike Caputo
WR Brandon Kinne
LB Lavante David
DT Terrenc Moore
FS Austin Cassidy
Alfonzo Dennard
Key Returners
QB Taylor Martinez
WR Kenny Bell
OG Spencer Long
Ameer Abdullah
DE Cameron Meredith
LB Will Compton
SS Daimion Stafford
What to watch on defense
Nebraska's "black shirt defense" is legendary and perfectly aligns with HC Bo Pelini's style. Unfortunately for Nebraska, the famed unit hasn't played up to its billing so far this season. Nebraska hemorrhaged points against Ohio in their biggest game to date and haven't played much better since. Pelini is intimately involved in what the defense is doing, to the point where he calls the defensive plays.
Nebraska suffered a rash of injuries on the defensive line and was left with a barebones unit by the middle of the season. The line has played only marginally better this season with a healthy unit. Cameron Meredith leads the way on the defensive line and often switches between DE and DT depending on the defensive call. 6'6 290lb Baker Steinkuhler anchors the middle of the defense at NT and is a load to handle inside.
Nebraska has raided the the junior college ranks for years under Pelini and the Huskers
saw huge dividends with Lavante David who set the school record for tackles in a season. David did everything for the Huskers and was a threat to make a huge play against the run and the pass. Will Compton returns to step into the playmaker role from his MLB position after finishing 2nd to David on the team in tackles.\
Nebraska returns 3 players who started at least 7 games a year ago though the loss of Big 10 defensive player of the year Alfonso Dennard has had an effect. SS Damion Stafford started all 12 games a year ago and lead the team with 10 pass breakups on the year. The Huskers had big expectations for JUCO CB Mohammed Seisay who they signed to help soften the blow of losing Dennard to graduation.
Best Defensive Player
Will Compton- Compton makes everything go for the Nebraska defense. In a true 4-3, the play of the MLB is critical to the overall success of the defense. Compton not only ensures that the defense aligns properly, he also don't hesitate to make pre-snap checks and engage in a psychology chess match with the opposing QB.
Michigan Rush Def vs. Nebraska Rush Off
Running is what Nebraska has been about for most of their history, outside of a short period with Bill Callahan. Nebraska is one of the most creative teams in the country when it comes to the number of different ways they run the football. With Burkhead out of the game Nebraska's running game loses some of its potency but not much. The Nebraska offensive line that is responsible for opening up holes for the backs remain intact and Martinez is finally a healthy rusher this season.
Michigan's rush defense took a huge step forward last year, proving they can handle a physical, straight ahead running style. Holding La'Von Bell to under 70yds has the defense riding high and they come in with a lot of pride and expectations..
Advantage- Nebraska
Michigan Pass Def vs. Nebraska Pass Off
Martinez has looked like a different QB this season and his posting career highs from a passing standpoint. When Nebraska is able to run the ball the passing game has the ability to attack downfield off the play action and catch teams out of position.
Raymon Taylor has filled in nicely for the injured Blake Countess and while the secondary as a whole haven't made a ton of game changing plays, they have kept the ball in front of them for the most part.
Advantage- Nebraska
Michigan Rush Off vs. ND Rush Def
There is no pretty way to state it. The Nebraska run defense is horrible. Not only do they have trouble stopping tradition RB runs, they have a very tough time containing mobile QBs.
Michigan's running game outside of Denard Robinson has been showing signs of life in the last 2 games and that is bad news for a Nebraska defense that already had its share of issues.
Advantage-Michigan
Michigan Pass Off vs. ND Pass Def
The loss of Dennard hasn't completely crippled the Nebraska defense but there is a definite hiccup in their step. There is plenty of size, experience, and talent in the secondary. The issue has been getting the unit to play well on a consistent basis.
The Michigan passing game remains a work in progress. Just as soon as the passing game appears to have gotten their sea legs things fall right out from under them. Michigan has gone out of their way to limit the number of passes thrown in games as well as the situations when they decide to throw the ball.
Advantage- Push