The 2012 recruiting season has started off pretty slow commitment wise for the University of Michigan so far, but the coaches have been hard at work sending out verbal offers so far. By my count, Coach Hoke and Co. have given out 121 (give or take one or two) verbal offers as of today.
Recent Offers
– California Quarterback Zach Kline. The newly named Army All-American has already verballed to Cal. Not likely to go anywhere for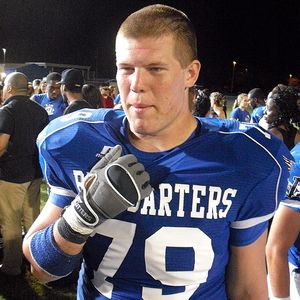 UM.
– Rockford, MI offensive tackle Ben Braden.
– Very highly touted Apopka, FL offensive center/guard Ty Darlington.
– Texas offensive lineman Trey Keenan.
– Georgia defensive end Jordan Jenkins.
Halo List
– Offensive tackle Taylor Decker – Notre Dame
– Offensive tackle Mike Madaras – Maryland
– Offensive Guard Dan Voltz – Wisconsin
– Defensive End  Mario Edwards – Florida State
3/12/2011 Visits
A few unofficial visitors made it up last weekend as well.
– Indianapolis defensive tackle Sheldon Day was the headliner. Day grew up watching UM games with his brother and had a good visit. Day plans on deciding after his senior season and Michigan will likely be in it until the end.
– Tight End Devin Funchess also made it to AA with his family and had a great visit as well. In my opinion Funchess gives Michigan the best chance of landing one of the Farmington Hills trio (Burbridge and Ojemudia).
– Wisconsin linebacker Vince Biegel also had a nice visit and has the Wolverines in his top three along with BYU and Wisconsin. He had a good time, but Wisconsin looks to be out in front.
– The final notable prospect was safety Allen Gant from Ohio. Gant is a legacy kid who desires an offer, but may have to wait for camp later on.
3/19/2011 Planned Visits
– TE Pierre Aka – Indianapolis, IN
– OT Kyle Dodson – Cleveland, OH
– OG Kelby Latta – Battle Creek, MI
– DE Pharaoh Brown – Lyndhurst, OH
– LB Royce Jenkins-Stone – You know where
– LB Jeremiah Tshimanga – North Richland Hills, TX
– LB – Camren Williams – West Roxbury, MA and teammate CB Armani Reeves