With the 2012 season wrapping up this weekend, it's time to take a way too early look at the 2013 projected depth chart for the Wolverines with some analysis. Note: The only i
ncoming freshmen that I will include in the depth chart are Shane Morris and Jake Butt.
QB: 1. Devin Gardner – Senior
2. Shane Morris – Freshman
3. Russell Bellomy – RS Sophomore
Analysis: Gardner returns for his fourth season as a Wolverine after starting the second half of 2012 at the QB spot following Denard Robinson's injury. Gardner's skill set opens up a more vertical passing game that the Wolverines became accustomed to with Robinson at the helm. Gardner has also shown the ability to make teams pay with his feet and should be the future of the position if he is granted a fifth season, something Coach Brady Hoke seems optimistic about. Shane Morris will be the second best quarterback on the roster talent wise, but don't expect to see him in mop-up duty– that role will fall on Bellomy's shoulders. However, should Gardner get hurt, expect to see Morris step in as the starter, ready or not.
RB: 1. Fitzgerald Toussaint – RS Senior
2. Thomas Rawls – Junior
3. Justice Hayes – RS Sophomore
4. Dennis Norfleet – Sophomore
5. Drake Johnson – RS Freshman
Analysis: Toussaint comes off a disappointing season that ended with a serious injury. His starting spot is all based on his health. Should he not be ready, Rawls will likely get the spot. However,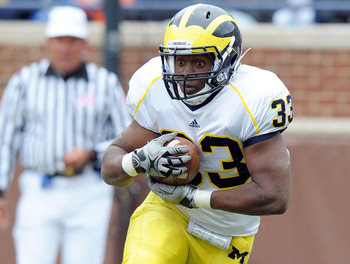 I have heard rave reviews on Justice Hayes and would like to see him get a shot. He can run inside and outside, and is a home-run threat. Norfleet needs to be added into the offense in some capacity. He is lightning in a bottle, and the offensive staff needs to find a way to get the ball in his hands. A top-flight freshman could have a real shot to contribute at the running back position.
FB: 1. Joe Kerridge- RS Sophomore
2. Stephen Hopkins – Senior (left team)
3. Sione Houma – Sophomore
Analysis: Kerridge is the bone-crushing fullback that Michigan fans became accustomed to during the Lloyd Carr era. He will never get many carries, but is a solid run blocker. Hopkins really needs to improve in the run blocking department. Houma could contribute next year if he adds weight in the offseason. He provides a nice skill set that is a hybrid of Kerridge and Hopkins.
WR: 1. Jeremy Gallon – RS Senior
2. Drew Dileo – Senior
3. Jerald Robinson – RS Junior
4. Amara Darboh – Sophomore
5. Jeremy Jackson – Senior
6. Joe Reynolds- RS Senior
7. Jehu Chesson – RS Freshman
Analysis: The Wolverines have a bunch of returning contributors at the receiver position in 2013. I never thought I would say this, but Michigan will miss Roy Roundtree. However, Gallon and Dileo have both shown significant improvement throughout their careers and should shine in the passing game with Gardner at the helm. Jerald Robinson could start opposite of Gallon which would allow Dileo to stay in the slot where his skill set fits best. Robinson will be pushed by Darboh to start. Reynolds and Jackson are both possession receivers that aren't much of a threat with the ball in their hands but help in the run game. Chesson is raw, but could potentially provide a vertical threat. The coaching staff needs to continue to improve the talent at this position on the recruiting trail.
TE: 1. Devin Funchess – Sophomore
2. AJ Williams – Sophomore
3. Jake Butt – Freshman
Analysis: The tight end position will have two young players who made contributions in the 2012 season returning next year. Funchess provides an added luxury in the passing game and could be a terror to gameplan against. In a perfect world, Williams would have redshirted in 2012, but depth and injury issues forced him onto the field. Butt will contribute right away.
LT: 1. Taylor Lewan – RS Senior
2. Erik Magnuson – RS Freshman
Analysis: Lewan may leave early for the NFL, and if he does that could force the coaches to shuffle the offensive line around. Provided he stays, he will be the anchor of this offensive line and allow Magnuson to continue to grow into the LT of the future.
LG: 1. Kyle Kalis – RS Freshman
Analysis: Kalis will likely start somewhere along the OL, and I think he steps in at LG in 2013. He is a physical run blocker who can solidify the left side of the line if Lewan returns. There will be a few true freshman in the two deep along the offensive line, and LG is definitely a position that needs added depth.
C: 1. Jack Miller – RS Sophomore
2. Blake Bars – RS Freshman
Analysis: Miller started to get more reps in practice toward the end of the 2012 season as the interior OL struggled against good competition. He will likely start, but don't be surprised if Bars pushes him at the spot. Bars can likely play any position along the OL aside from LT.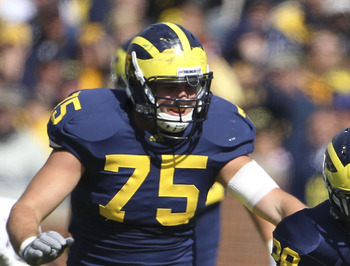 RG: 1. Chris Bryant – RS Sophomore
2. Joey Burzynski- RS Junior
Analysis: If Bryant recovers from an injury he sustained in fall camp he will likely start at one of the OG positions. Burzynski is often praised by the coaching staff and will push for playing time.
RT: 1. Michael Schofield – RS Senior
2. Ben Braden – RS Freshman
3. Erik Gunderson- RS Senior
Analysis: Schofield returns at RT after a hot and cold junior campaign. He looked good at times, but was exposed against Alabama. Braden is a road-grader and is the future at the position. Former walk-on Gunderson will be on the depth chart, but shouldn't see significant playing time barring an injury.