Michigan only inked  two offensive linemen in their 2011 recruiting class. Therefore, the coaches will be hitting that area very hard for 2012, possibly taking 5 kids. Illinois guard Dan Voltz is one of the Wolverine's early targets and he recently answered a few questions about his recruitment for UMGoBlog.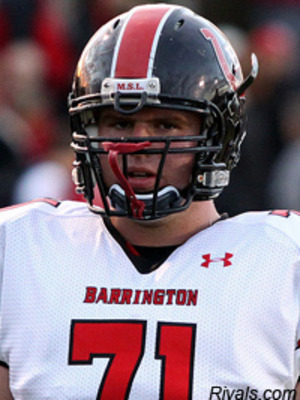 Sean O'Connell: How many offers do you hold?
Dan Voltz: "I currently hold 16 offers. They are from Arizona, Boston College, Cincinnati, Illinois, Indiana, Iowa, Michigan, Michigan State, Minnesota, Northwestern, Purdue, Stanford, Vanderbilt, West Virginia, Western Michigan, and Wisconsin."
Sean O'Connell: What are your top three factors when looking at schools?
Dan Voltz: "Football tradition, academics, and campus."
Sean O'Connell: Does location matter?
Dan Voltz: "Location does matter. I am a big midwest guy and would love to play football in the midwest. But if there is a school outside of the midwest that I like, I won't hesitate to look at it."
Sean O'Connell: Do you have a school you grew up cheering for?  If so will that factor into your decision?
Dan Voltz: "I grew up a Northwestern fan. It is one of my favorite schools currently, but that really has nothing to do with that fact that I grew up liking them. They have a great football program in Evanston."
Sean O'Connell: Do you have a top list yet?
Dan Voltz: "I would say that schools I am looking at the hardest are the Big 10 schools, but I am pretty much wide open to all schools at this point."
Sean O'Connell: Are you hoping to play with any former/current teammates at the next level?
Dan Voltz: "I have not put much thought of playing with a current teammate at the next level, but I would love to play with Chase Murdock or Sam Handler. They have been my teammates for a while now and we are close friends."
Sean O'Connell: Do you have a time line for your decision?
Dan Voltz: "Ideally, I would like to make a decision before the start of my senior season, but if I don't feel comfortable, I will push it back."
Sean O'Connell: Has the new staff contacted you?
Dan Voltz: "Yes, I have spoken with Coach Hoke, Coach Funk, and Coach Hecklinski over the phone. Coach Hoke offered me over the phone
last week."
Sean O'Connell: Are you interested in Michigan and their new staff?
Dan Voltz: "I am very interested in Michigan. They offer one of the best combinations of academics and football in the country and that really excites me. The new coaching staff has been really good to me and I think they are all great coaches."
Sean O'Connell: Does the type of offense you play in matter?
Dan Voltz: "I wouldn't say that it would influence my decision on what school I go to, but ideally I would like to play for a team that runs a more pro style offense. I know that Michigan likes to run the ball a lot so that suits my style well."
Sean O'Connell: Where does Michigan rank on your list?
Dan Voltz: "Michigan is towards the top of my list because of the combination of academics and football tradition that they provide. Also, they are known for putting out great linemen such as Jake Long, so they are definitely a school I will look hard at."