With signing day just around the corner, here is a look of where things are at. Michigan currently has 24 commits in its 2013 class and could potentially go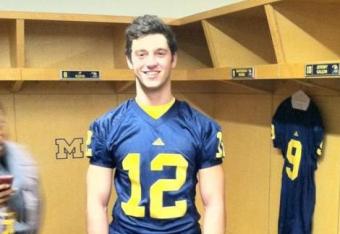 as high as 29. As we've seen with Hoke and Company over the past two recruiting cycles, more recruits can pop up at any time. So this list is quite fluid.
Quarterback (Shane Morris)
More on the way? Highly unlikely. Personally, I'd love for the staff to go after another QB for this class just because depth could be a huge concern next season if Devin were to get injured. Russell Bellomy showed that he is not quite ready for the prime time quite yet against Nebraska. He'd have to improve a lot over spring and fall ball to prove otherwise. The only option after him is Mr.. Morris, but without a solid running game throwing him out there seems like a bad idea. With Shane already in the fold you're not going to get another high profile kid, but adding a mid-tier 3 star kid would be a smart idea. Unfortunately, it doesn't look like adding another QB in this class is going to happen.
Running Back (DeVeon Smith, Wyatt Shallman)
More on the way? Likely. An already really nice running back class could be much better with the addition of 5* Derrick Green. With messes at both Tennessee and Auburn, Michigan seems to be the obvious choice (he even named Michigan his leader a few weeks back), but Green has yet to pull the trigger. Barring a decision at the Army All-American Game, this recruitment will likely draw out until signing day or somewhere near there. I think there is a very good chance that Green ends up in this class, but wouldn't be shocked if he chose somewhere else. Shallman may very well end up on the defensive side of the ball, but I left him on the running back's list for now.
Wide Receiver (Jaron Dukes, Da'Mario Jones, Csont'e York)
More on the way? Highly unlikely. Recruiting is a very interesting world of peaks and valleys. This summer Michigan was the team to beat for one of the best receivers in the country in Laquon Treadwell. The five-star pass catcher recently narrowed his list to a top 3 (Oklahoma, Oklahoma State and Ole Miss) with Michigan being absent. Its not impossible for Michigan to peruse another wide out, but at this point it looks like the Wolverines are done recruiting the position.
Tight End (Khalid Hill, Jake Butt)
More on the way? No. Starting to build really good depth here with Funchess, Williams, Butt and Hill. Butt is a January enrollee and will likely see the field next fall. He and Funchess could make for a lethal receiving tight end duo. Hill will likely red-shirt and could also play some h-back.
Offensive Line (Kyle Bosch, David Dawson, Chris Fox, Patrick Kugler, Logan Tuley-Tillman)
More on the way? Highly likely. After breaking up for a few months, Michigan and David Dawson ironed out their issues and got back together, giving UM the best OL class in the country once again. The Wolverines does not seem satisfied with the 5 OL they have however. Michigan has recently offered Dennis Finley (OT-Cass Tech-MSU verbal), Cameron Hunt (OG-Corona, CA-Cal S
oft-verbal), Dan Samuelson (OG-Plymouth, IN-Nebraska soft-verbal), Dan Skipper (OT-Arvada, CO-Tennessee soft-verbal) and Jaryd Jones-Smith (OT-Philadelphia, PA). Finley has already said that he's solid with Sparty, but Skipper and Samuelson both visited in mid-December and had strong visits. Skipper plans on taking a few more visits between now and signing day. It sounds like Samuelson is still deciding between Michigan and Nebraska. UM is also getting a January visits from Hunt and Jones-Smith, who both have Michigan in their top five.
Defensive End (Taco Charlton)
More on the way? No. The main need in this class was for a pass rusher and Charlton provides that. He's already over 260 lbs., enrolled early and will likely see some action next fall. I wouldn't be surprised to see Wyatt Shallman end up over here at some point either.
Defensive Tackle (Maurice Hurst Jr., Henry Poggi)
More on the way? No.
Linebacker (Ben Gedeon, Mike McCray)
More on the way? Likely. Gedeon and McCray are likely both MLB's so Michigan would like to add a SAM in this class. The main target right now is Marcus Ball (Westerville, OH-Wisconsin soft-verbal) who visited in mid-December after Brett Beilema left Wisconsin. He had a great visit, but plans on taking his time with the decision. Michigan looks pretty good here. The Wolverines also offered MSU legacy Jon Reschke, but he confirmed his Spartan pledge. There were a few other prospects that Michigan showed some interest in, but Ball looks to be the main candidate right now.
Cornerback (Delano Hill, Jourdan Lewis, Channing Stribling)
More on the way? Likely. The three above make for a very solid class, but the staff might want one more. Illinois verbal Reon Dawson (Trotwood-Madison, OH) is the likeliest at this point and plans on visiting in January.
Safety (Dymonte Thomas)
More on the way? No. Michigan is still currently recruiting Leon McQuay, but the odds of landing him have dwindled significantly over the past few weeks. It looks like he'll be heading to USC or staying closer to home (FSU). Delano Hill or Stribling could potentially make the switch to safety later on.