Of course the biggest new of the week has been the kind of commitment of Ohio linebacker Kaleb Ringer. His announcement was supposed to come on Friday, but was prematurely leaked by a Dayton newspaper. Kaleb will still make his choice official at 6 PM tomorrow evening. Welcome to the family Kaleb! Other than that it has been a rather uneventful week. There were a few new offers and of course the spring game is on Saturday.
New Offers
Patrick Destefano – four star offensive guard out of South Carolina.
Dillon Lee – four star outside linebacker from power Buford, GA.
Geno Smith – one of the top rated corners in the country. Alabama is currently his leader.
Jonathan Williams – Texas running back.
Halo List
DT Jarron Jones (Penn State)
Recent Visits ( * denotes offer)
Pierre Aka – Indianapolis TE/DE made it in for a visit and will be coming back this summer, hoping to earn an offer. Loves UM.
Joe Bolden* – Ohio linebacker made it back up to AA with his folks. He has named Michigan his leader and it will be interesting to see how long this one drags out. If he does make a commit, will Michigan take 4 or 5 linebackers? It will be interesting.
Spring Game Visitors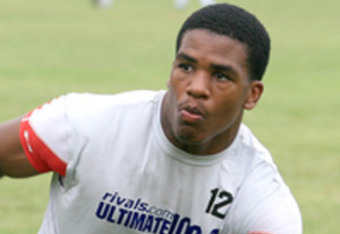 J.J. Denman* – listed Michigan, Notre Dame, Penn State and Wisconsin as his top four around a month ago.
Jordan Diamond* – might be bringing Jaleel Johnson with him as well.
Caleb Stacey* – Michigan Commit
Vontrell Williams – Illinois DT  is hoping for an offer.
Unconfirmed Kids
Good Counsel teammates Stefon Diggs, Wes Brown and Ryan Watson all of whom have offers.
Pharaoh Brown*

[tube]http://www.youtube.com/watch?v=Cp-oeYhG4hI[/tube]