The 2012 Michigan recruiting class has 24 commits and the magic number now seems to be 28.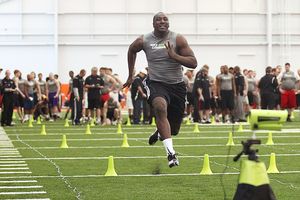 Running Back – The recent commitment of Drake Johnson will not effect Bri'onte Dunn's recruitment.
Bri'onte Dunn. Visited UM's BBQ a few months back and enjoyed his time. To my knowledge a return official visit has not been planned yet, but will likely happen. He visited Penn State a few weeks back as well. To me, this is an OSU-Michigan battle. Each week more and more bad news leaks out of Columbus which does not help their standing with Bri'onte. With the NCAA now serving the Bucks with the "failure to monitor" charge, scholarship deductions and Bowl game losses seem likely. OSU's ongoing problems along with pressure from Kyle Kalis, Tom Strobel and Dymonte Thomas might just sway the talented back up to AA in the end. I never thought I was going to say this, but I really believe that Dunn will end up in this class.
Wes Brown. There has been some contact with Brown, but I don't think that we are recruiting him very aggressively. We'll see.
Wide Receivers
Amara Darboh. Had to reschedule his official visit for later this season and will visit Michigan for the Ohio State game in a couple weeks. He could quite possibly commit on that visit.
Stefon Diggs!!. Can you tell that I'm excited. The second best WR in the country and Michigan have been in contact again recently, and this is looking more and more possible by the day. Stefon would be a huge get for UM. Sam Webb recently talked to Stefon and his coach. Expect Diggs to take a visit in the near future.
Jordan Payton. Visited for the Notre Dame game and came away very, very impressed. Shortly after the visit he named Michigan his favorite and cancelled an official to Oklahoma. He also visited Notre Dame and shortly after that visit he named Michigan and The Fighting Irish co-faves and
cancelled his decision date. Michigan is still in this, but it now seems like he may want to stay out West in the end. Time will tell here, but don't hold your breath.
Jehu Chesson. Another kid who name Michigan is his top 5 and will visit for the Ohio State game.
Darius Powe. Recently named Michigan in his top 5. He plans on making an official to Michigan either late in the season or after his season is over. He'll make his choice at the UAA game.
Monty Madaris. Monty will not be taking any visits until his football season is complete. He has been somewhat quiet on the recruiting front, but everyone might be chasing Michigan State for his services.
Offensive Line – We could very well be done here with AJ Williams looking more and more like an offensive lineman.
Jordan Diamond. Jordan has been very, very quiet recently. He had Michigan as his leader for a very long time, but that tune has changed over the past few months. UM seems to be even with Arkansas, Illinois and Wisconsin at this point. I'm not really sure what to think, but I don't have a great felling about Diamond anymore.
Joshua Garnett. Planned official visit for the Ohio State game. I man can dream right??
Alex Kozan. A recently offered kid who seems intrigued. Got offered a little late, but we'll see what happens down the road.
Dan Gibbs. If the staff does take another OL, Dan could receive an offer if the others fall through. Preferred walk-on?
Cornerbacks
Yuri Wright. Michigan is very, very high on his list and plans to take an official for the Ohio State game. This would be awesome and it looks good.
Safety – With the grayshirt lifted from Jeremy Clark UM is likely done with this position for this class.
Shaquille Thompson. The nations top safety prospect has expressed interest in the Maize and Blue over the past few weeks. He might visit after the season ends.