Offense
| | | |
| --- | --- | --- |
| Scoring Offense | 28.5 PPG | 55th Nat. |
| Passing Offense | 227.1 YPG | 63rd Nat. |
| Rushing Offense | 188.7 YPG | 30th Nat. |
| Scoring Defense | 17.2 PPG | 7th Nat. |
| Pass Defense | 206.2 YPG | 39th Nat. |
| Rush Defense | 107.8 YPG | 16th Nat. |
Virginia Tech's offense has gone through variety of changes over the years. The one constant since the late 90s has been the presence of a difference maker at QB. This year's version of the Virginia Tech offense is not as explosive as in years past but effective nonetheless under the direction of 6'6 245lb QB Logan Thomas. Any discussion of Virginia Tech's offense begins and ends with the running game. Tech has a run heavy offense using both RB David Wilson and Thomas primary ball carriers. For much of the season, the Hokie offense revolved around getting David Wilson the ball in as many ways as possible. Dumping off to Wilson and letting him make something happen is a standard offensive play for the Hokies. Stopping the Hokie run game and tackling Logan Thomas will be a major test for the Michigan defense and likely determine the outcome of the game. Thomas frequently bounces off of tackles and is a load to bring down or disrupt even when the defense gets into the backfield. Hitting and wrapping up will not be enough as Thomas is often still able to complete passes with defenders draped over him.
Virginia Tech recruits and signs more TEs than any other team in college football. They do so because TEs are often the more versatile and multi-talent athletes on a roster. The Hokies often take TEs and convert many of them into offensive linemen because of their athleticism and footwork. This Virginia Tech team is no exception as starting left tackle Andrew Lanier is a converted TE. Virginia Tech's offensive line boasts 4 senior starters but they have struggled for much of the year, especially in pass protection. The interior of the Hokie offensive line has been especially poor. The Hokies have posted some impressive rushing totals but those numbers are a reflection on the talent of David Wilson not the Hokie offensive line.
| | | | | | |
| --- | --- | --- | --- | --- | --- |
| Passing | Comp. % | Yards | TD | INT | Yards/Gm. |
| #3 Logan Thomas | 59.2 % | 2799 | 19 | 9 | 215.3 |
| #6 Mark Leal | 69.2% | 153 | 2 | 0 | 76.5 |
Virginia Tech's uses a very basic passing game and tries to limit Logan Thomas to easy throws. The Hokies rely on the run so when they do drop back to pass they normally face one on one coverage. The Hokies run a ton of WR screens, both bubble screens and quick hitting plays if opposing corners play off. If Michigan comes out in the same off coverage look it has for much of the season, expect the Hokies to throw quick screens until there is a change in coverage. One advantage the Hokies have over most teams in the passing game is size. The Hokies have some of the biggest receivers in college football. The Hokies use three major downfield targets when teams play press coverage, Marcus Davis (6'4 231lbs), Jarrett Boykin (6'2 219lbs), and D.J. Coles (6'3 225lbs ). As a change of pace the Hokies also employ slot receiver Danny Coale and TE Chris Drager underneath and on screens. As mentioned, screens and dump offs to David Wilson are also a big part of the Hokie passing.
Offensive Impact Player to Watch
RB David Wilson
| | | | | | | |
| --- | --- | --- | --- | --- | --- | --- |
| Rushing | Att. | Yards | Avg. | TD | Fumb. | Yards/Gm. |
| #4 David Wilson | 266 | 1627 | 6.1 | 9 | 4 | 125.2 |
| #3 Logan Thomas | 137 | 416 | 3.0 | 10 | 3 | 32.0 |
| #2 Josh Oglesby | 90 | 336 | 3.7 | 6 | 0 | 25.6 |
Michigan has faced a lot of very talented skill players this season, Michael Floyd, Ronnie Hillman, Rex Burkhead, Boom Herron to name a few. Wilson may be the most electric player of the bunch. A track star, Wilson has been clocked running a 10.34 in the 100m dash and a 4.3 in the 40. Wilson leads the country in number of runs spanning 15yds or more and averages a ridiculous 6.1yds per carry. While his speed in the open field is a dangerous weapon, Wilson is also a factor as a runner between the tackles. Wilson breaks a lot of tackles and always keeps his legs running for extra yards.
Matchup to Watch
Michigan Defensive Line vs. Virginia Tech Offensive Line
This seems obvious given how important the trenches are in football games. This battle has even more significance than in most games. Michigan has a real opportunity to dominate the trenches and if they do, a blowout could ensure. Mike Martin, Will Heininger, Will Campell, and at times Ryan Van Bergen will have favorable match ups against weaker linemen. The Wolverines front 4 must win their one on one match ups and have no excuse not to.
Defense
| | | | | | |
| --- | --- | --- | --- | --- | --- |
| #1 Antone Exum | 85 Tack. | 4.5 TFL | 1 Sack | 1 FF | 1 INT |
| #15 Eddie Whitley | 78 Tack. | 1.0 TFL | 0 Sacks | 1 FF | 2 INT |
| #17 Kyle Fuller | 64 Tack. | 14.5 TFL | 4.5 Sacks | 1 FF | 1 INT |
| #24 Tariq Edwards | 63 Tack. | 9.5 TFL | 2.5 Sacks | 0 FF | 2 INT |
| #20 Jayron Hosley | 59 Tack. | 1.0 TFL | 0 Sack | 2 FF | 3 INT |
There are many members of both the media and the Michigan fanbase who expect the Wolverines to blow out the Hokies. They look at the fact that Virginia Tech has failed to beat a team of significance, and suffered 2 blowouts by the only good team they've played. The Sugar Bowl won't be a blowout for one simple reason, the Hokie defense. Virginia Tech's defense matches up with the Michigan offense very well. While it is not the most talented, the Hokies have the fastest and most athletic defense that Michigan will have faced all season. Defensive Coordinator Bud Foster builds his defense on the basis of speed and athleticism. While that has gotten the Hokies into trouble against power based teams like Stanford, the formula is well suited to deal with what Michigan likes to do offensively. Michigan will need to effectively run the ball between the tackles in order to have su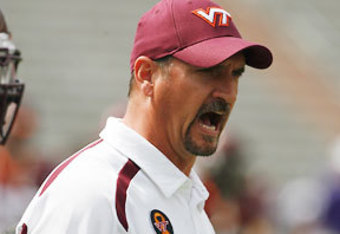 ccess on the ground. The inside zone, QB draw, and power plays from under center are likely to have more success than plays designed to get outside.
Bud Foster runs a very unique style of defense. Part 4-2-5, part 3-3-5, the defensive relies on pressure and confusion. The Hokies use a lot of hybrid players, guys who don't quite fit as defensive linemen or linebackers but are a mix of the two. The Hokies use one of the smallest defensive lines in the country, but also one of the quickest and most athletic. The Hokie front 7 is very fast and they relies quick penetration into the backfield to disrupt runs and get after the QB. Like Greg Mattison, Bud Forster uses pressure and the illusion of pressure to confuse opposing offensive linemen and QBs. Bruce Taylor, the best of the Virginia Tech LBs suffered a season ending injury in the middle of the season, something that created a large hole in the middle of the Virginia Tech defense.
The Hokies ask a lot out of their secondary, especially their corner backs, and put a ton of pressure on them. Jayron Hosley and Kyle Fuller man the corners and do an excellent job in both man and zone coverage. In two games against the Clemson, the Hokies played with zero deep safeties for large stretches of the game. The Hokies often bring their safeties down into the box right before the snap, using them to either support the run or rush the passer. Safety Antone Exum acts as a roving safety and his combination of size (5'11 217lbs) and speed allow him to defend the run and the pass equally well. Despite often playing with no deep safety, Virginia Tech has no reservations about playing press coverage outside. Since the Hokies blitza lot and generate a ton of pressure on opposing QBs they don't worry about getting beaten deep. The main reason the Hokies don't worry about getting beaten downfield is because of their faith in the coverage ability of their cover guys, which is often warranted. The other part comes down to a belief by Bud Foster in his team's ability to get to the passer before receivers can get down field. By playing press coverage, the Hokies take away the short passes and quick screens that most teams use to adjust to and defeat pressure.
Virginia Tech matches up well with the Michigan offense in two key areas. One, the Hokies boast the kind of speed and athleticism in the front 7 that it takes to cut off and corral a guy like Denard Robinson and disrupt the zone read. Expect the Hokies to attack Michigan with run blitzes and by overloading sections of the offensive line. Finally, the Hokies have the ability to force Michigan into doing what it does not want to do, throw the ball downfield. Expect the Hokies to jam Michigan's receivers at the line of scrimmage and dare Robinson to throw downfield.
Defensive Impact Player to Watch
Jayron Hosley
Hosley led all players in D1-A in interceptions with 9 in 2010. He was promptly rewarded by having opposing teams not throw in his direction, leading to a drop in production but not play. Hosley is not just a ball hawk, he is also an exceptional pure cover man as well. The Hokies line up Hosley on a variety of players depending on the situation. Hosley has been asked to cover everyone from #1 WRs down the field to TEs in the red zone. Hosley is a force to be reckoned with when the ball is in the air.
Matchup to Watch
Michigan's Wide Receivers vs. Virginia Tech's Defensive Backs
Michigan's receivers will get plenty of chances to make plays in this game and they must take advantage. Like Michigan State, Virginia Tech has a good enough defense to take away a facet of an opposing offense if they choose to. Bud Foster is simply not going to allow Denard Robinson and the run game beat the Hokies unless he is forced to. Without Michigan's receivers beating defenders downfield for big plays, Foster will have no reason to drop his safeties into coverage. Unless Michigan's receivers can consistently get open and make plays, the Hokies will load the box and tee off on the running game.
Special Teams
No discussion of Virginia Tech is complete without bringing up special teams. No team takes more pride in special teams or spends more practice time working on it than the Hokies. Frank Beamer personally coaches the special teams units and does not hesitate to use starting players on special teams, a rarity in college football. The Hokies are usually among the top ranked teams in the country in blocked kicks and punts but this year they have not been as fortunate. The Hokies have only allowed one punt to be returned longer than 20 yards and are among the nation's leaders in kickoff coverage. Kicker Cody Journell is 14-17 on field goals with a long of 42yds. The Hokies have allowed Journell to attempt several 50yd field goals but he did not make them. Beamer rotated punters for much of the season because of inconsistency and eventually gave up on both. WR Danny Coale took over at the end of season and now handles all of the punting duties.
Special Teams Impact Player to Watch
Danny Coale
| | | | | | |
| --- | --- | --- | --- | --- | --- |
| Receiving | Rec. | Yards | Avg. | TD | Yards/Gm. |
| #13 Danny Coale | 52 | 787 | 15.1 | 3 | 60.5 |
| #81 Jarrett Boykin | 57 | 731 | 12.8 | 5 | 60.9 |
| #7 Marcus Davis | 29 | 499 | 17.2 | 5 | 38.4 |
| #18 D.J. Coles | 34 | 449 | 13.2 | 3 | 34.5 |
Coale is a WR and has the distinction of being the only player in the country who handles both punting and punt returns for his team. Coale took ov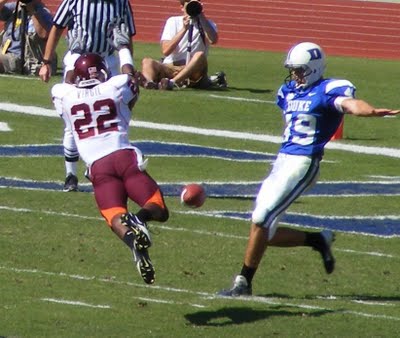 er the punting duties against Virginia and averaged 47 yds per punt in the game. In the ACC Championship game he averaged 46yds per put including two 50yd+ punts. Having a WR as a punter gives Virginia Tech the added bonus of a lot speed on the back end. Don't be surprised to see the Hokies fake at least one punt in the game to take advantage of Coale's presence.
Matchup to Watch
Virginia Tech's Kick and Punt block Team vs. Michigan Field Goal and Punt Team
The Hokies do a lot of movement and pre-snap craziness in their attempts to block punts. The Hokies often overload one side of a punt team, and then either shift defenders over before the snap or bring the house to one side of the offensive formation. The Hokies have also been known to abandon the outside gunners and bring more defenders after the punter opposing teams have blockers. Identifying and adjusting to pressure will be critical for the Wolverines. Every kick could be an adventure.
Notes of interest
This is the first meeting between Michigan and Virginia Tech.
Virginia Tech is the only team in the county that has held opposing QBs to an average completion rate under 50%.
QB Logan Thomas is a converted TE who has only been playing QB at the college level since fall camp.
The last time the Hokies were in the Sugar Bowl was 2005. They lost 16-13 to an Auburn team coached by current Michigan Offensive Coordinator Al Borges.
Frank Beamer is 2-4 in BCS Bowl games; 1-2 in the Sugar Bowl.
Beamers's last BCS win came in 2008 against Cincinnati (20-7), his last loss came last year against Stanford (40-12).
RB David Wilson is 5th in the country in rushing yards.
The Hokies are 6-14 in games played in Dome Stadiums.
This game will mark just the second football meeting between the Hokies and a Big Ten team.
Use Facebook to Comment on this Post