Michigan only inked  two offensive linemen in their 2011 recruiting class. Therefore, the coaches will be hitting that area very hard for 2012, possibly taking 5 kids. Illinois guard Dan Voltz is one of the Wolverine's early targets and he recently answered a few questions about his recruitment for UMGoBlog.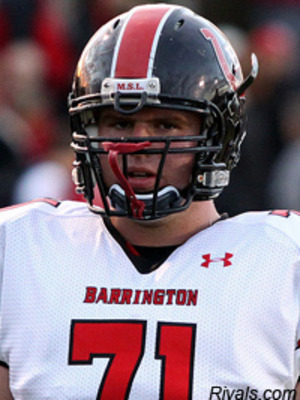 Sean O'Connell: How many offers do you hold?
Dan Voltz: "I currently hold 16 offers. They are from Arizona, Boston College, Cincinnati, Illinois, Indiana, Iowa, Michigan, Michigan State, Minnesota, Northwestern, Purdue, Stanford, Vanderbilt, West Virginia, Western Michigan, and Wisconsin."
Sean O'Connell: What are your top three factors when looking at schools?
Dan Voltz: "Football tradition, academics, and campus."
Sean O'Connell: Does location matter?
Dan Voltz: "Location does matter. I am a big midwest guy and would love to play football in the midwest. But if there is a school outside of the midwest that I like, I won't hesitate to look at it."
Sean O'Connell: Do you have a school you grew up cheering for?  If so will that factor into your decision?