With signing day just around the corner, here is a look of where things are at. Michigan currently has 24 commits in its 2013 class and could potentially go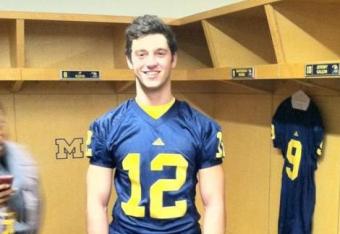 as high as 29. As we've seen with Hoke and Company over the past two recruiting cycles, more recruits can pop up at any time. So this list is quite fluid.
Quarterback (Shane Morris)
More on the way? Highly unlikely. Personally, I'd love for the staff to go after another QB for this class just because depth could be a huge concern next season if Devin were to get injured. Russell Bellomy showed that he is not quite ready for the prime time quite yet against Nebraska. He'd have to improve a lot over spring and fall ball to prove otherwise. The only option after him is Mr.. Morris, but without a solid running game throwing him out there seems like a bad idea. With Shane already in the fold you're not going to get another high profile kid, but adding a mid-tier 3 star kid would be a smart idea. Unfortunately, it doesn't look like adding another QB in this class is going to happen.
Running Back (DeVeon Smith, Wyatt Shallman)
More on the way? Likely. An already really nice running back class could be much better with the addition of 5* Derrick Green. With messes at both Tennessee and Auburn, Michigan seems to be the obvious choice (he even named Michigan his leader a few weeks back), but Green has yet to pull the trigger. Barring a decision at the Army All-American Game, this recruitment will likely draw out until signing day or somewhere near there. I think there is a very good chance that Green ends up in this class, but wouldn't be shocked if he chose somewhere else. Shallman may very well end up on the defensive side of the ball, but I left him on the running back's list for now.
Wide Receiver (Jaron Dukes, Da'Mario Jones, Csont'e York)
Continue reading "Michigan Football New Year Recruiting Update"