The 2012 Michigan recruiting class has 24 commits and the magic number now seems to be 28.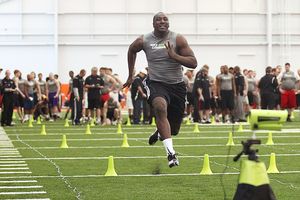 Running Back – The recent commitment of Drake Johnson will not effect Bri'onte Dunn's recruitment.
Bri'onte Dunn. Visited UM's BBQ a few months back and enjoyed his time. To my knowledge a return official visit has not been planned yet, but will likely happen. He visited Penn State a few weeks back as well. To me, this is an OSU-Michigan battle. Each week more and more bad news leaks out of Columbus which does not help their standing with Bri'onte. With the NCAA now serving the Bucks with the "failure to monitor" charge, scholarship deductions and Bowl game losses seem likely. OSU's ongoing problems along with pressure from Kyle Kalis, Tom Strobel and Dymonte Thomas might just sway the talented back up to AA in the end. I never thought I was going to say this, but I really believe that Dunn will end up in this class.
Wes Brown. There has been some contact with Brown, but I don't think that we are recruiting him very aggressively. We'll see.
Wide Receivers
Amara Darboh. Had to reschedule his official visit for later this season and will visit Michigan for the Ohio State game in a couple weeks. He could quite possibly commit on that visit.
Continue reading "The Blueprint to Filling Out the 2012 Class Part 3"