Purdue comes to town this week, and while a typical pushover the past 50 years, save the occasional Drew Brees year, Michigan Football isn't back to being your Daddy's Michigan Football, at least yet.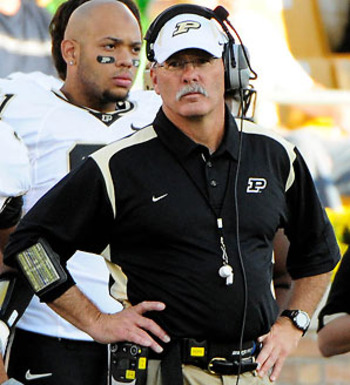 Danny Hope has his Boilers (and his stache) stylin' these days, coming off a 21-14 upset against Illinois. How much of that is Purdue improving, as opposed to the Illini being overrated and frankly, coached by the Zooker, remains to be seen. I'm leaning towards the latter, afterall, we're talking the same team that lost to Rice, who happened to give up 9TD passes last night to Houston. In a little over 3 quarters. Yikes.
They kind of remind me a little of Western Michigan (although I think a better team than WMU)  A couple outstanding defensive players in Short and Allen on the D-line and Secondary respectively, and a smattering of average players.
On offense, they sport an average to above average QB, whether its the rookie, or Marve, and a good but not great RB in Bolden.
I think this game will end up similar to the Northwestern game, however not go the same way. While UM may start off a little rusty after the bye week, I think there is a nasty taste in their mouth after the Sparty game that needs some cleansing.
Look for Michigan to continue to try and find some consistency in both the running and passing games, and sans a repeat of Hurricane Willie and 40mph winds, I expect Michigan to do so.
Michigan pulls away in the second half, Denard is much less pedestrian with his passing game, and finds some seams in the running game.
Michigan 34, The Stache 17.