Tag:
Florida State Seminols
With Zeke Pike committing to Auburn on Wednesday, what does Michigan do about the future of the quarterback position? I have to imagine that they want to sign a QB nearly every year and this year IMO is very critical that we do. So where do we go from here? Below are a list of potential candidates.
Most Likely Candidates
Austin Appleby – North Canton, OH – 6'5" 230. Good sized kid. There have been a few rumors that he's been offered, but I have not been able to confirm this yet. He has decent mobility and a good arm. He did miss part of last season due to a knee injury, so there are some questions with his health. Offers: Akron, Kent State, Temple and Toledo.
Tyler O'Connor – Lima, OH – 6'3" 210. I actually like him more than Appleby. Throws very well on the run and can really spin the ball. WOTS is that interest has been gaining with him over the past week with the knowledge of Pike likely committing to Auburn. Offers: Indiana, Louisville, Michigan State, Northwestern, Vanderbilt, West Virginia and some MAC schools.
[tube]http://www.youtube.com/watch?v=DdFtw1cFLHc[/tube]
The Next Group
The 2012 recruiting season has started off pretty slow commitment wise for the University of Michigan so far, but the coaches have been hard at work sending out verbal offers so far. By my count, Coach Hoke and Co. have given out 121 (give or take one or two) verbal offers as of today.
Recent Offers
– California Quarterback Zach Kline. The newly named Army All-American has already verballed to Cal. Not likely to go anywhere for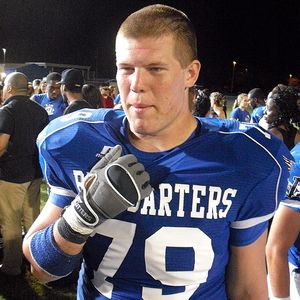 UM.
– Rockford, MI offensive tackle Ben Braden.
– Very highly touted Apopka, FL offensive center/guard Ty Darlington.
– Texas offensive lineman Trey Keenan.
– Georgia defensive end Jordan Jenkins.
Halo List
– Offensive tackle Taylor Decker – Notre Dame
– Offensive tackle Mike Madaras – Maryland
– Offensive Guard Dan Voltz – Wisconsin
– Defensive End  Mario Edwards – Florida State
3/12/2011 Visits