Michigan lost out on Avery Walls this week however gained a commitment from three star linebacker Desmond Morgan. Obviously defense is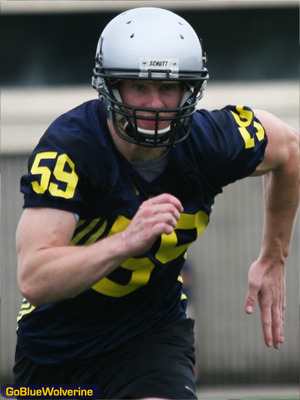 where this staff needs to focus their recruiting attention towards. Eight of Michigan's current commitments (of 13 total) come on the defensive side of the ball. Led by four star defensive end Brennen Beyer and four star linebacker Kellen Jones, this class still has much room for improvement.
On the defensive front Michigan has a commitment from Canton, MI defensive end Brennen Beyer. Beyer is a versatile player who can play both OLB and DE. If Beyer can put on some more weight he could be a Craig Roh type of player. Michigan also has a commitment from Columbus, Ohio's Chris Rock. Rock has a nice 6'5" 240 pound frame but has lacked production in the high school level. Rock is a player who can gain some weight and play inside at defensive tackle. Anthony Zettle, who is a highly rated offensive guard who prefers defense, has Michigan in his top two. With two defensive ends already in the fold and another who holds Michigan high on his list, Michigan must find some solid players to contribute inside. Look for Michigan to try to land Hyattsville, MD Darian Cooper and Covington, LA Mickey Johnson. Another defensive tackle to watch for is Farrell, PA Rob Trudo. Trudo is currently committed to Syracuse but has enjoyed the interest Michigan has shown him over the last month.
Projection at the DL position – Brennen Beyer (DE), Anthony Zettel (DE), Chris Rock (DL), Rob Trudo (DT)
[tube]http://www.youtube.com/watch?v=qLIlUUXpGd8[/tube]
Michigan also needs help at the linebacker position. Commits Kellen Jones and Desmond Morgan provide that however another one or two players would be great. Jones is physically ready to play at the next level while Morgan has great instincts but could benefit from some speed and agility training. Michigan also has Antonio Kinard, a 2011 kid who went to prep school, in the mix. However it is unknown whether Michigan would take him or not. Kris Frost, out of Matthews, NC, would be a great fit for what this staff likes to do on defense. It'll be hard to keep him from Auburn but it is still a possibility. More likely is Michigan offering Winter Springs, FL OLB Ryan Petro. Petro has a great 6'3" 205 pound frame and is an absolute freak of nature. He does it all for Winter Springs. He has great speed and plays great sideline to sideline. He is certainly a sleeper in the 2011 class.
Projection at the LB position – Kellen Jones (MLB), Desmond Morgan (MLB), Ryan Petro (OLB), Antonio Kinard (OLB)
[tube]http://www.youtube.com/watch?v=EXp5oCcg2Q0[/tube]
Recruiting the safety position has been very frustrating for this staff. Well, recruiting the entire secondary for that matter. Either way,
Michigan would like to take one or maybe two safeties in this class. Although listed as a cornerback by most of the recruiting services, Dallas Crawford fills this need perfectly. He has some of the best instincts of any player in 2011 class and reads the field as well as anyone. Where he lacks in size (5'10" 180) he makes for by being very physical. Crawford has been a leader as a four year starter at South Fort Myers. With limited options, Michigan has pursued Dillard Fort Lauderdale safety Wayne Lyons. Also, look for Michigan to go after Orlando Dr. Phillips' now-uncommitted safety Roderick Ryles. Also, Greg Brown (listed below) may have outgrown the CB position into a strong safety type of player.
Projection at the S position – Dallas Crawford, **too early to put Ryles here**
Michigan has commitments from two corners already. Greg Brown (Fremont, OH) and Delonte Hollowell (Detroit, MI) are both solid players. Brown is starting to outgrown the cornerback position however Hollowell is a very quick but small player. Hollowell could benefit from strength and conditioning but he may be asked to play as a freshmen. Olney, MD product Blake Countess holds Michigan high on his list and he could end up wearing maize and blue. Also, look for the staff to continue to recruit Central, LA corner James Richardson in the event that the staff does think Brown outgrew the cornerback position.
Projection at the CB position – Delonte Hollowell, Greg Brown, Blake Countess
Projected 2011 Defensive Class:
DE – Brennen Beyer –
– Canton, MI
DE – Chris Rock –
– Columbus, OH
DE – Anthony Zettel –
– West Branch, MI
DT – Rob Trudo –
– Farrell, PA
MLB – Kellen Jones –
– Houston, TX
MLB – Desmond Morgan –
– Holland, MI
OLB – Ryan Petro –
– Winter Springs, FL
OLB – Antonio Kinard –
– Youngstown, OH
S – Dallas Crawford –
– South Fort Myers, FL
CB – Greg Brown –
– Fremont, OH
CB – Delonte Hollowell –
– Detroit, MI
CB – Blake Countess –
– Olney, MD
Top Three 2012 recruits at each position (very early still folks, especially for Michigan who is taking time with offering junior prospects):
| | |
| --- | --- |
| DE | S |
| Chris Wormley – Toledo, OH | Allen Gant – Sylvania, OH |
| Matt Godin – Novi, MI | D.J. Singleton – Jersey City, NJ |
| Michael Moore – Hyattsville, MD | Bam Bradley – Trotwood, OH |
| DT | CB |
| Dan O'Brien – Flint, MI | Terry Richardson – Detroit, MI |
| Eddie Goldman – Washington, D.C. | Brian Poole – Bradenton, FL |
| Darryl Goldsmith – Detroit, MI | Leviticus Payne – Southfield, MI |
| LB |   |
| Royce Jenkins-Stone – Detroit, MI |   |
| James Ross – Orchard Park, MI |   |
| Nathan Ricketts – Holland, MI |   |