The 2012 recruiting season has started off pretty slow commitment wise for the University of Michigan so far, but the coaches have been hard at work sending out verbal offers so far. By my count, Coach Hoke and Co. have given out 121 (give or take one or two) verbal offers as of today.
Recent Offers
– California Quarterback Zach Kline. The newly named Army All-American has already verballed to Cal. Not likely to go anywhere for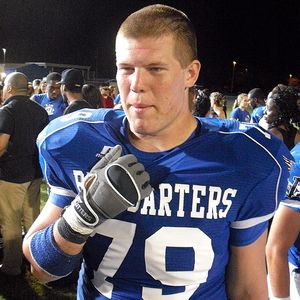 UM.
– Rockford, MI offensive tackle Ben Braden.
– Very highly touted Apopka, FL offensive center/guard Ty Darlington.
– Texas offensive lineman Trey Keenan.
– Georgia defensive end Jordan Jenkins.
Halo List
– Offensive tackle Taylor Decker – Notre Dame
– Offensive tackle Mike Madaras – Maryland
– Offensive Guard Dan Voltz – Wisconsin
– Defensive End  Mario Edwards – Florida State
3/12/2011 Visits