What to watch on offense
The Ol Ball Coach has presided over his own offense for decades. For years Spurrier's "fun and gun" offense terrorized opposing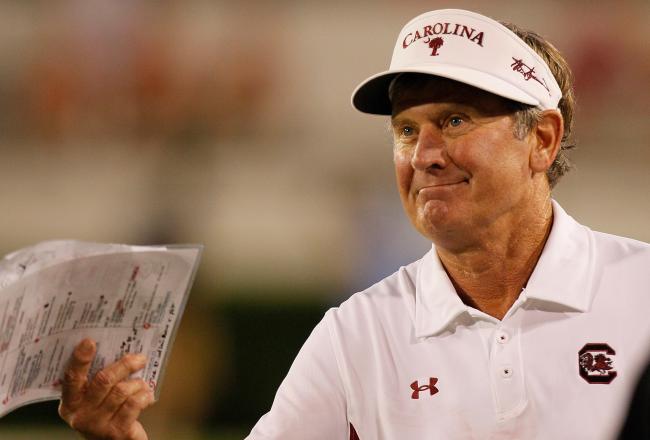 defenses. During the early stages of his tenure at South Carolina Spurrier employed the same offensive model. The arrival of superstar RB Marcus Lattimore caused Spurrier to change his offensive approach. South Carolina has relied more heavily on the run and mixed in an array of under center plays in recent years in an attempt to take advantage of Lattimore's talent. The fun and gun spread remains a large portion of the South Carolina offense however.
Rotating QBs is a hallmark of Steve Spurrier coached teams. This season is no exception; although injuries have played a large factor. Junior Connor Shaw began the year as the starter but a number of injuries have allowed sophomore Dylan Thompson to see significant action this season. The more mobile and experienced of the two, Shaw is expected to start the Gator Bowl with both QBs likely see time. Unlike the last bowl game where Michigan faced one of the tallest sets of WRs in the country, South Carolina employs one of the shortest. South Carolina's top three pass catchers, Bruce Ellington, Ace Sanders, and Damiere Byrd all check in at 5'9" or below. What South Carolina's WRs lack in size, they make up for in speed and quickness. The diminutive Byrd averages 25 yds per receptions this season, though he has just 12 receptions on the year.
For the last three years South Carolina has gone as far as Marcus Lattimore's legs could carry them. South Carolina has enjoyed a wealth of talent over the years but none better than Lattimore. Lattimore suffered another nasty knee injury in the latter half of the season which led to an increased workload for senior Kenny Miles and freshman Mike Davis. From a statistical standpoint, South Carolina's rushing production has decreased little since Lattimore went down to injury. The net effect and fear factor for opposing defense has decreased in potency since the injury.
Best Offensive Player
Ace Sanders- With Lattimore MIA the next focal point of the offense becomes Sanders who doubles as big play receiver and returnman. Sanders leads the Gamecocks in TDs receptions and his 14.5yd punt return avg leads the SEC.