Note: As usual we include Notre Dame in B1G Rankings as they recruit same area and are a common opponent.
1. Ohio
Biggest Get – Jalin Marshall (ATH-WR). Marsha
ll is a special, explosive athlete who will thrive in Urban Meyer's offense.
Biggest Miss – James Quick (WR). Quick is one of the most explosive receivers in the country and ended up choosing the hometown Louisville Cardinals over the Bucks.
Sleeper – Jayme Thompson (S). It's hard to call a borderline 4 star kid a sleeper, but in a class full of highly rated DB's Thompson is exactly that. While a bit raw, his athleticism makes his ceiling very high.
2. Michigan
Biggest Get – Shane Morris (QB). Any time you can get a five star talent at quarterback you are doing very well. Morris has the biggest arm in the country and was an exceptional recruiter for Michigan.
Biggest Miss – Laquon Treadwell (WR). During the summer it seemed as if Treadwell was a near certainty to commit to Michigan, but in the end he chose to go elsewhere. Treadwell would've filled a pretty big need.
Sleeper – Channing Stribling (CB). A virtual unknown, Stribling came to Michigan's camp this summer and completely shut down the competition over a five day period and earned an offer.
3. Notre Dame
Biggest Get – Jaylon Smith (LB). The best linebacker in the country. Enough said.
Biggest Miss – Isaac Savaiinaea (MLB). It was tough to find a miss for this class, but Isaac would've been a great replacement for Manti Te'o. They got him to visit, but couldn't reel him in.
Sleeper – Devin Butler (ATH). Butler is a terrific athlete who had offers from Michigan, Nebraska, Penn State and many others. His position hasn't been nailed down quite yet, but expect him at either wide out or safety.
4. Nebraska
Biggest Get – Terrell Newby (RB). One of the top running backs in the West, Newby had 8 touchdowns in a game this past season.
Biggest Miss – Christian Lacouture (DT/DE). Was actually committed for a time to the Huskers, but decided to go to LSU instead. Lacouture would've filled a position of great need for Nebraska.
Sleeper – Drake Martinez (ATH) The younger brother of current Huskers quarterback Taylor, looks as equally fast and a little more physical. He may end up playing on the other side of the ball.
5. Michigan State
Biggest Get – Damion Terry (QB). The signal caller will be the most athletic QB that Sparty has put on the field since Drew Stanton. He accounted for nearly 60 touchdowns during his senior season.
Biggest Loss – Kyle Bosch (OT). The four star tackle had visited MSU numerous times and was thought to have the Spartans near the top of his list, until he visited Michigan.
Sleeper – Darian Hicks (CB). A nice sized, athletic corner could be the next great MSU defensive back.
6. Penn State
Biggest Get – Christian Hackenburg (QB). A consensus top 5 pro-style quarterback, Hackenburg stuck with his commitment amid heavy sanctions handed down by the NCAA. An amazing get for the Lions.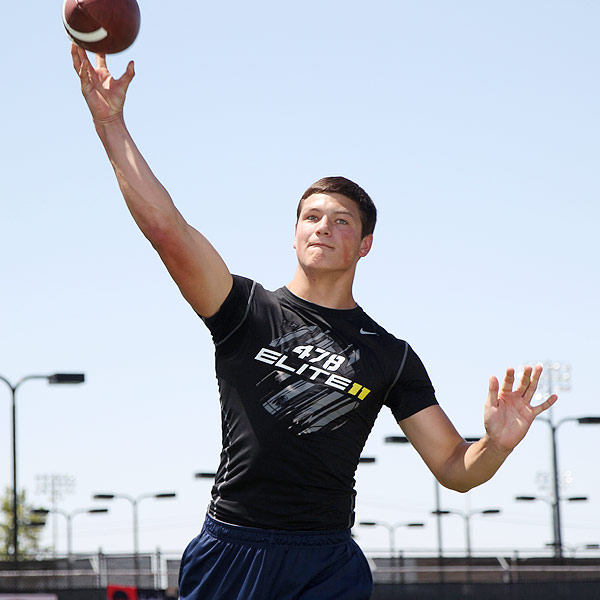 Biggest Loss – Dorian Johnson (OT). Johnson was once committed, but fled after PSU was penalized by the NCAA. The four star tackle later committed to Pittsburgh.
Sleeper – Curtis Cothran (DE). An explosive, but raw pass rusher who could provide some speed off the edge in a few years.
7. Illinois
Biggest Get – Aaron Bailey (QB). Picked his home state Illini over offers from Nebraska, Notre Dame and Ohio State. An explosive athlete who can also throw, Bailey should do well in this offense.
Biggest Miss – Josh Augusta (DT). If Illinois wants to be relevant in the B1G, they're going to have to win some of the battles for the best in the state. Augusta visited the Illini, but chose Missouri in the end.
Sleeper – Miguel Hermosillo (RB). The super explosive Hermosillo should fit in well in the back field with Aaron Bailey.
8. Indiana
Biggest Get – Darius Latham (DT). The one time Wisconsin commit flipped to the Hoosiers and should anchor the DLine for years to come. If Indiana can start keeping some of the top instaters, they should improve quite a bit.
Biggest Loss – Demetrius Hill (JC-DE). Was committed to IU at one point, but de-committed. He was a solid three star and could've helped immediately.
Sleeper – Danny Friend (TE). A low three star kid, but is pretty athletic and should do very well in IU's pass heavy offense.
9. Northwestern
Biggest Get – Matt Alviti (QB). The perfect fit for what the Cats want to do on offense, very versatile dual-threat kid.
Biggest Loss – James Clark (WR). Would have been a great target for Alviti in the future, but committed to Ohio on signing day.
Sleeper – Godwin Igwebuike (ATH). The Ohio native is a fantastic athlete who could end up at a number of positions for Northwestern.
10. Wisconsin
Biggest Get – Corey Clement (RB). The next great back at Wisky?? The four star back had nearly 2,500 yards rushing and 33 TDs.
Biggest Loss – Darius Latham (DT). Was committed to Bucky for a while before flipping to Indiana.
Sleeper – Jack Keeler (OT). We all know that Wisconsin can develop OLs better than most programs. Keeler could be a steal.
11. Iowa
Biggest Get – Colin Goebel (OT). Was a nice pull from Illinois and comes from good football bloodlines. He should develop into a solid B1G lineman.
Biggest Loss – Jake Campos (OT). Missed out on the top rated kid in the state to rival Iowa State.
Sleeper – Desmond King (CB). The Michigan product came on very strong after a solid senior season.
12. Purdue
Biggest Get – Danny Etling (QB). The new Purdue staff was able to hold on to the Elite 11 QB and will be the cornerstone of the new program.
Biggest Miss – Trevon Young (OT). The Florida prospect once had the Boilermakers in his top four, but a late in the process Florida offer was too much to resist.
Sleeper – Ra-Zhan Howard (DT). Purdue has had a bunch of great defensive linemen over the years, Howard could be the next.
13. Minnesota
Biggest Get – De'Vondre Campbell (DE-JC). Provides a much needed presence on the edge and could make an immediate impact.
Biggest Miss – James Onwualu (WR). Minnesota has to build a fence around the state if they want to be remotely competitive in the B1G. They especially need to get the four star kids to stay.
Sleeper – Berkley Edwards (ATH). One of the fastest players in Michigan should be a big playmaker for the Gophers.